Here is what our Happy Kitty Amour Parents are saying!
We cannot recommend kitty amour Enough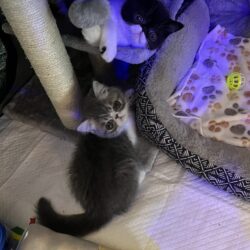 We cannot recommend kitty amour and Teresa enough! We purchased 2 kittens in June and have been so pleased with the whole process. Teresa meet me at the Dallas love field airport since I was coming from California to pick them up. They were just as cute and well mannered as the pictures from her website we have been so happy with them and they are adapting well with our other cats. We have had experience with 3 different breeders and kitty amour and Teresa are by far the best! We appreciate her sharing her kittens and experience with us. Thank you so much!
Anthony & Nancy P
Hi, I can't say
Hi, I can't say enough WONDERFUL things about Theresa Johnson and her cattery. We got our precious red boy Chester about a month ago. Theresa drove all the way from Dallas to MS with him to ensure his safe arrival! My husband and I agree that this is the most wonderful, playful, adorable, well adapted kitten we have ever met! Personality plus like we've never seen! I cannot recommend this cattery more!! Their babies are devine and if you've never owned an exotic before, well be prepared to get hooked!!! Thanks so much Theresa!💕💕
Debbie B
I cannot recommend Kitty Amour Enough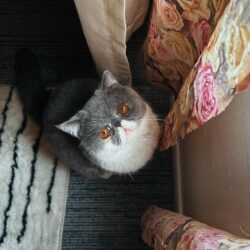 I cannot recommend Kitty Amour enough. I got a kitten last summer and through the entire process I was so impressed by the knowledge and expertise Teresa had around this breed.
My kitten, Marty Byrde, is almost a year and a half old and I love him more every day. He is playful but very confident and extremely affectionate/snuggly. Even with his tiny nose he can run and wrestle without wheezing (which was a big concern i had with owning this breed, but he has ZERO issue breathing). He wrestles with my dog and my other cats have been obsessed with him since the moment I brought him home. I plan to get an orange kitten from Kitty Amour down the road. I would recommend this breeder to any of my close friends or family who are considering this breed!!
Maris B